SOMERSET, NJ February 21 – Oticon held the company's most comprehensive launch ever to introduce Oticon Alta, the company's premium technology hearing instrument that sets a new standard in performance and client satisfaction. More than 1000 hearing care professionals from across the US gathered in New Orleans for "Make It Personal," a three-day knowledge-sharing event that featured expert presentations, hands-on workshops, an international keynote speaker and an "Alta Village" exhibition area. A specially designed "Event App" helped participants optimize access to a wide range of information and workshop sessions, post questions to presenters and share personal impressions and insights using smart phones and iPads.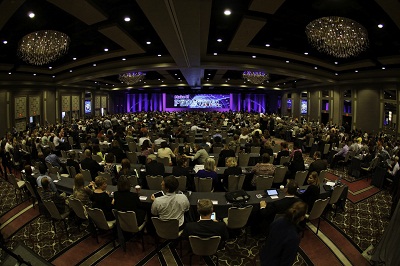 "This knowledge-sharing event enabled us to immerse our hearing care partners in the many innovations and improvements that make Alta a hearing instrument like no other -- with the potential to deliver a new level of client satisfaction," said Oticon President Peer Lauritsen. "With Alta, the focus is on embracing the client's need for customization by creating a product and fitting process in which the professional acts as the guide to discovering the optimal solution for each user. The interaction between hearing care professional and client is central to unlocking Alta's power of personalization."
Expert sessions explored Alta's performance improvements and the resulting benefits that empower hearing care professionals to reach beyond the audiogram and standard presets to shape a hearing solution to the life of each client.
Don Schum, PhD, Vice President, Audiology & Professional Relations, shared research involved in the development of the new Inium platform, Oticon's most advanced and efficient wireless signal processing chip. Inium provides the basis for Speech Guard E, Free Focus, the Inium feedback shield and other new features available in Alta. Schum also outlined the Alta Personalization Process that enables practitioners to use questions and structured listening experiences to help individuals express how they perceive sound and then incorporate each client's unique sound preferences for a highly personalized fitting.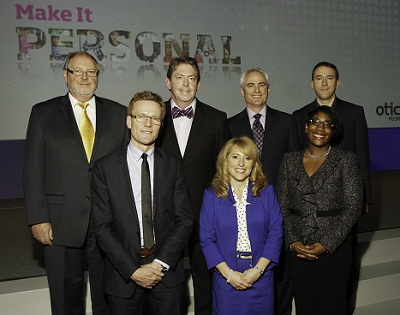 Front (l-r): Troels Rygaard, Nancy Palmere, Sheena Oliver; Back (l-r): Peer Lauritsen, Don Schum, Jim Kothe, Curtis Alcott
Troels Rygaard, MSc (E), Senior Director and head of the corporate product management team at Oticon A/S, told participants that in developing Alta, Oticon invested more than three years and the work of 250 technical and clinical audiologists, electro acoustic engineers and micro system experts.
Practice building is another area in which hearing care professionals were advised to "make it personal." Senior Marketing Manager Nancy Palmere unveiled three different marketing approaches to reach patients and potential patients with something that they can identify with the personality of the hearing care professional and his/her practice.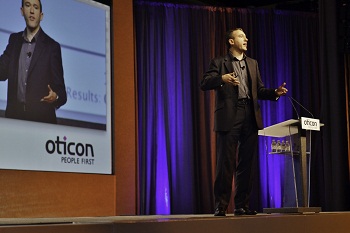 Curtis Alcott delivers the keynote address
Keynote speaker Curtis Alcott, Partner, Broom Reid & Harris Hearing, Exeter, UK and Founder of the Audira Think Tank for Hearing, discussed the science behind how attitudes are formed, shaped and changed. He noted that by understanding this process, the hearing care industry can identify the reasons why many people avoid hearing solutions and better develop its role in helping to modernize society's attitudes toward hearing care and hearing instruments.
Following Alcott's presentation, Jim Kothe, Vice President of Sales for Oticon, shared research on the effectiveness of a non-traditional approach to presenting hearing technology, especially premium technology, to help consumers see its benefits using a quick, education-based method.
"We used to look at an audiogram, have a discussion with clients about their challenges and know exactly what kind of signal processing they needed," summed up Vice President of Marketing Sheena Oliver, AuD, MBA. "We now know it's more complicated than that. By using the Alta Personalization Process, you involve clients from the start and create the opportunity to increase client satisfaction. The new technology and new advancements in Alta allow us to shape the sound of the device in a way that we've never been able to before."
For more information about Alta, the Alta Personalization Process and Oticon's comprehensive business support toolbox, visit MyOticon.com. MyOticon is a free service available to all Oticon account holders. Simply visit MyOticon.com and click on the link "Create an Account."